Briefing Paper "The Truth of GPIF's Investment in Coal Companies" was published
Contribution day:June 05, 2017
On June 5, 2017, Japan Center for a Sustainable Environment and Society (JACSES) published a report on investment in coal companies by GPIF, which is the world's largest public pension fund owned by the Japanese government.
As a result of our study, GPIF's investment amount in coal companies is JPY 883 – 1,796 Billion (USD 8 -16 Billion), as of March 2016. The study was based on lists of shares and bonds held by GPIF, and "coal companies" are defined by the following three methods: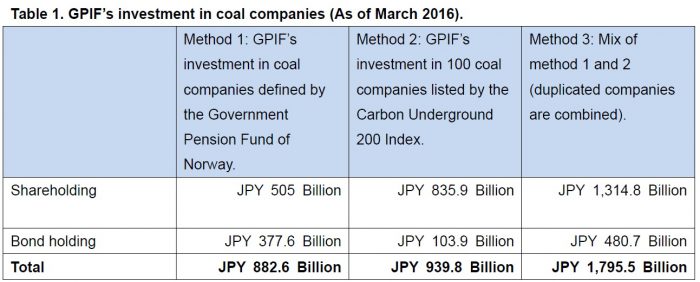 Although the GPIF adopted the UN-PRI in 2015, no investment policy on climate change has made yet. JACSES has been urging the GPIF to start a divestment from coal related companies.
This survey is supported by the Patagonia environmental grants, which is coordinated by Tides Foundation.