"Request to Engage with Tokio Marine to Stop Underwriting Fossil Fuel Projects" was sent to 50 major investors
Contribution day:July 27, 2022
July 27, 2022
Dear Tokio Marine Holdings Shareholders,
A Request to Engage with Tokio Marine to Stop Underwriting Fossil Fuel Projects
Japan Center for a Sustainable Environment and Society (JACSES)
Kiko Network
Friends of the Earth Japan
350.org Japan
Mekong Watch
Insure Our Future
On June 27, Tokio Marine Holdings (hereinafter referred to as Tokio Marine), one of the ten largest insurers in the world providing insurance services to coal, oil and gas energy projects, held its Annual General Meeting (AGM). Activists from Japanese environmental NGOs participated in this meeting as shareholders and asked to stop insurance underwritings for new fossil fuel projects. However, the company's management only responded that they will strengthen their policy in stages, which lack speed and details. Therefore, we are sending this request to 50 financial institutions, which are major shareholders of Tokio Marine, to engage with the company to align Tokio Marine with the goals of the Paris Agreement, and to stop its underwritings for and investments in fossil fuel projects.
Tokio Marine lags behind global financial institutions in the following respects.
1. There is no policy to stop insuring and investing in oil and gas projects.
According to the report (*1) published by Insure Our Future, an international network of environmental NGOs, in January, it was found that Tokio Marine is a major insurer of Brazil's offshore oil and gas drilling. Moreover, regarding oil and gas extraction projects in the Arctic National Wildlife Refuge in Alaska, which is important for local communities such as Gwich'in, Tokio Marine has not addressed their requests to commit not to insure or invest in any upcoming projects in the Refuge (*3), as there is a possibility that Tokio Marine will underwrite the project in the future.
Globally, ten insurance/reinsurance companies, including Allianz and Swiss Re, have already set comprehensive restrictions on oil and gas projects. At the G7 Summit held in Elmau, Germany, from 26-28 June, G7 leaders agreed to "commit to end new direct public support for the international unabated fossil fuel energy sector by the end of 2022, except in limited circumstances clearly defined by each country consistent with 1.5°C warming limit and the goals of the Paris Agreement (*4)."
According to the report "Net Zero by 2050, A Roadmap for Global Energy Sector" released by International Energy Agency (IEA) on May 18, 2021, no new fossil fuel extraction projects should be approved and the power generation sector needs to reach net zero greenhouse gas emissions globally by 2040 (*5). To reach net zero by 2050, insurers cannot underwrite or invest in new fossil fuel projects, including oil and gas projects, as well as coal projects.
2. Exceptions are included in the policy on new underwritings and investments in coal-fired power plants and coal mine projects.
Tokio Marine announced in September 2021, that they "will not provide new underwriting capacities or financing to coal-fired power generation projects or thermal coal mining projects, regardless of whether they are newly constructed or not (*6)." However, as the policy has exceptions "for the projects with innovative technologies and approaches, such as CCS/CCUS and mixed combustion," Tokio Marine leaves a possibility for future underwriting of coal-fired power plants such as using ammonia co-firing, which have limited emission reductions and are highly likely to be inconsistent with the goals of the Paris Agreement (*7). Tokio Marine should establish a policy to stop underwriting and investments in coal projects without any exceptions.
3. There is no policy to stop insuring and investing in coal-related companies.
SOMPO Holdings, which is Tokio Marine's rival company, announced on June 28 that it will not insure or invest in "companies that derive at least 30% of their revenues from coal-fired power generation, thermal coal mines, or oil sands, or electric utility companies that generate at least 30% of their energy from coal (*8)," becoming the first Japanese financial institution to restrict underwriting and investment targets on a company level. In comparison, Tokio Marine does not have any company-based coal restrictions, leaving room to continue underwriting and investing in coal.
4. There is no phase-out policy for existing underwritings for coal projects.
According to the report "Exposed: The Coal Insurers of Last Resort (*9)," released by Insure Our Future and Solutions for Our Climate (SFOC), an environmental NGO in Korea, it has been revealed that Tokio Marine provided approximately $569 million of the insurance coverage for the construction of Vung Ang 2 coal-fired power plant in Vietnam, and is the second largest insurer of Vung Ang 2. Though it is still not clear whether Tokio Marine will continue to be an insurer when Vung Ang 2 starts its operation, Tokio Marine does not have any phase-out plan for existing insurance coverage for coal projects. Insurers, such as AXA, Swiss Re, Allianz, AXIS Capital, Zurich, and others have already committed to reduce their exposure to coal projects from their portfolios to zero by 2040 globally.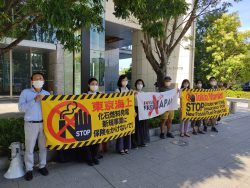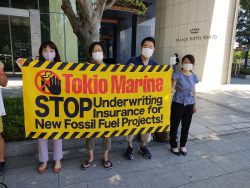 Outside the Tokio Marine's Annual General Meeting in Tokyo, environmental NGOs held an action to urge the insurer to stop underwriting and investing in fossil fuel projects. The Insure Our Future campaign, calling on global insurers to stop underwriting and investing in fossil fuel-related projects, has so far launched a campaign site targeting Tokio Marine (*10), sent an open letter to Tokio Marine's Group CEO (*11), and placed a full-page ad in the Financial Times (*12).
We are requesting Tokio Marine's major shareholders to engage with Tokio Marine to establish a policy to stop insuring new fossil fuel projects, including oil and gas, to remove the exceptions in its policy on coal projects, to stop insuring and investing in coal-related companies, and to establish a phase-out target for existing coal projects, in order to align its underwriting policy with the goals of the Paris Agreement.
We would appreciate it if you could send your institution's policies regarding this request and the result of your engagement to the contact person below by September 16. If you wish to discuss these issues further, we also welcome the opportunity to arrange a follow-up conversation online at your convenience.
Thank you for your consideration and we look forward to receiving your response.
Note:
*1:https://global.insure-our-future.com/wp-content/uploads/sites/2/2022/02/IOF-Brazil-report_FINAL.pdf
*2:
*3:https://ourarcticrefuge.org/wp-content/uploads/2022/03/FINAL-arctic-scorecard-2022.pdf
*4:https://www.mofa.go.jp/mofaj/files/100364051.pdf
*5:International Energy Agency (IEA), (2021), "Net Zero by 2050, A Roadmap for the Global Energy Sector", p. 20,
https://iea.blob.core.windows.net/assets/0716bb9a-6138-4918-8023-cb24caa47794/NetZeroby2050-ARoadmapfortheGlobalEnergySector.pdf
*6:https://www.tokiomarinehd.com/en/release_topics/release/k82ffv000000b7cy-att/20210930_Climate_Strategy_e.pdf
*7:https://www.kikonet.org/info/publication/hydrogen-ammonia-English
*8:https://www.sompo-hd.com/-/media/hd/en/files/news/2022/e_20220628_1.pdf?la=ja-JP
*9:https://global.insure-our-future.com/wp-content/uploads/sites/2/2022/06/IOF-KEPCO-Briefing_amended_06.pdf
*10:https://pollutingtheplanet.com/
*11:https://pollutingtheplanet.com/open-letter-to-the-tokio-marine-holdings-group/
*12:https://pollutingtheplanet.com/climate-campaigners-protest-aig-lloyds-of-london-and-tokio-marine-as-coal-insurers-of-last-resort/
Contact:
Japan Center for a Sustainable Environment and Society (JACSES)
Yuki Tanabe
tanabe@jacses.org
Marika Kita
kita@jacses.org
List of Financial Institutions that received this letter (July 27, 2022)
Government Pension Investment Fund
Mizuho Financial Group Inc.
Nomura Holdings Inc
The Vanguard Group Inc.
Norges Bank
BlackRock Inc
Meiji Yasuda Life Insurance Co.
Mitsubishi UFJ Financial Group Inc.
Sumitomo Mitsui Trust Holdings Inc.
Daiwa Securities Group Inc.
Barclays PLC
State Street Corp.
FMR LLC
Deutsche Bank AG
JPMorgan Chase & Co.
Goldman Sachs Group Inc
Royal Bank of Canada
T Rowe Price Group Inc.
Schroders PLC
Olive Street Investment Advisers LLC
Shizuoka Bank Ltd.
Hachijuni Bank Ltd.
Charles Schwab Corp.
Dimensional Fund Advisors LP
Canadian Imperial Bank of Commerce
Teachers Insurance & Annuity Association of America
Swedbank AB
Hokuhoku Financial Group Inc.
FIL Ltd
UBS AG
abrdn plc
Capita PLC
Janus Henderson Group PLC
Zuercher Kantonalbank
Geode Capital Management LLC
Bank of Kyoto Ltd.
WisdomTree Investments Inc
Ruffer LLP
Nippon Life Insurance Co.
CI Investments Inc/Canada
Norinchukin Zenkyoren Asset Management Co., Ltd.
Nordea Bank Abp
AXA SA
SPARX Asset Management Co., Ltd.
Allianz SE
Resona Assert Management Co., Ltd.
Danske Bank A/S
DekaBank Deutsche Girozentrale
The Bank of New York Mellon Corporation
Storebrand ASA